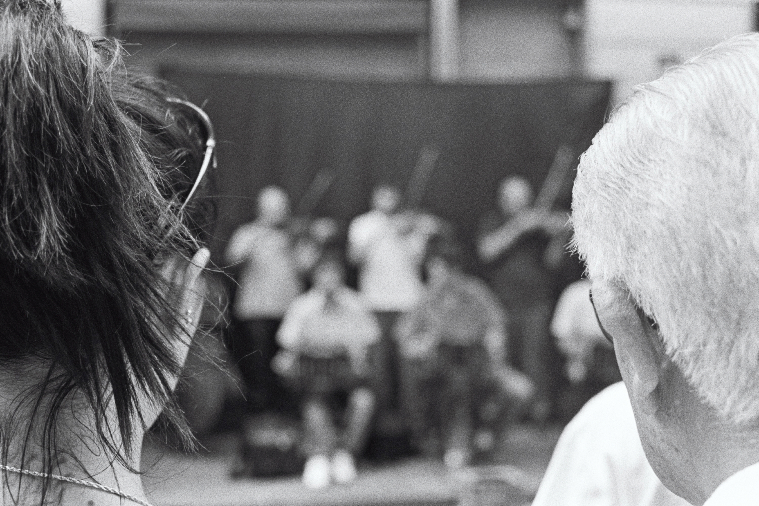 CROLAR Vol. 4, No.2,
Sound and Dissonance: Music in Latin American Culture
© Joe Goodman; Image courtesy of the artist.
This new issue of CROLAR – Critical Reviews on Latin American Research- is dedicated to music in Latin America, its "Sound and Dissonance." From salsa in the Caribbean carnaval in Brazil, or to tango in Argentina, to mention a few examples, music has always been inherent to what it means to be "Latin American," sometimes creating stereotypes that can be very hard to overcome. But what does music really mean to Latin America? How can music express a national identity and at the same time connect us to other realities? These are some of the initial questions when putting together this issue, and the submitted reviews help us further the debate.
How does the continent's music history relate to its aural present? How is Latin America's music tradition updated in the 21st century? And what are the challenges that the study of its sounds presents?
In the recent publications being reviewed here, three trends on sound studies become clear ....read more..
Candela Marini, Denise Kripper & the CROLAR Editorial Team
Vol 4, No 2 (2015): Sound and Dissonance: Music in Latin­ American Culture
Table of Contents
Editorial
Focus
Sonidos visibles: antecedentes y desarrollo del arte sonoro en Chile de Ana María Estrada Zuñiga y Felipe Lagos Rojas (2010)

Francisca García
Xul Solar. Un músico visual. La música en su vida y obra de Cintia Cristiá (2013)

Maria José Navia
Música prosaica (cuatro piezas sobre traducción) de Marcelo Cohen (2014)

Denise Kripper
Dar la nota: el rol de la prensa en la historia musical argentina de Silvina Luz Mansilla (Dir.) (2012)

Candela Marini
Latinos and Narrative Media. Participation and Portrayal by Frederick Luis Aldama (ed.) (2013)

Andrés Torres
Cómo hacer el sonido de una película de Carlos Abbate (2014)

Martin Ivan Mikulik
Aurality: Listening and Knowledge in Nineteenth-Century Colombia by Ana María Ochoa (2014)

Silvia M Serrano
Mujeres en la música en Colombia. El género de los géneros de Carmen Millán de Benavides y Alejandra Quintana Martínez (Eds.) (2012)

Nohora Arrieta Fernandez
El andarele en la música tradicional afroesmeraldeña de Fernando Palacios Mateos (2013)

Raquel Dias Teixeira
Palavra cantada: estudos transdisciplinares de Cláudia Neiva de Matos et al. (eds.) (2014)

Victoria Saramago
El 68 uruguayo: el movimiento estudiantil entre molotovs y música beat de Vania Markarian (2012)

Ana-María Alarcón-Jiménez
Pensar la música desde América Latina de Juan Pablo González Rodríguez (2013)

Sarah Booker
La música entre África y América de Coriún Aharonián (ed.) (2013)

Ricardo Amigo
Música Migrante em Lisboa. Trajectos e Práticas de Músicos Cabo-Verdianos de César Augusto Monteiro (2011)

Natalia Gavazzo
Cubaneando en Barcelona. Música, migración y experiencia urbana de Íñigo Sánchez Fuarros (2012)

Julia Roth
Classics Revisited
Aesthetics and its Discontents by Jacques Rancière

Daniel Villegas Vélez
Special Section
| | | |
| --- | --- | --- |
| | The Mediatization of Music in Mexico, Brazil, and Argentina: An Interview with Peter W. Schulze | |
Interventions
Armonía y ruido en las rememoraciones de Por los tiempos de Clemente Colling, de Felisberto Hernández.

Gabriel Villarroel
20 Años: Jach'a Laquitas La Paz, Bolivia de Wayramanta (2013)

Daniel Castelblanco
Current Debates
Caribbean Food Cultures. Culinary Practices and Consumption in the Caribbean and Its Diasporas by Wiebke Beushausen et al. (eds) (2014)

Raul Matta
Santería und ihre Globalisierung in Kuba. Tradition und Innovation in einer afrokubanischen Religion von Claudia Rauhut (2012)

Andreas Hofbauer
Complete Edition
| | | |
| --- | --- | --- |
| | Complete Edition CROLAR 4(2) | |